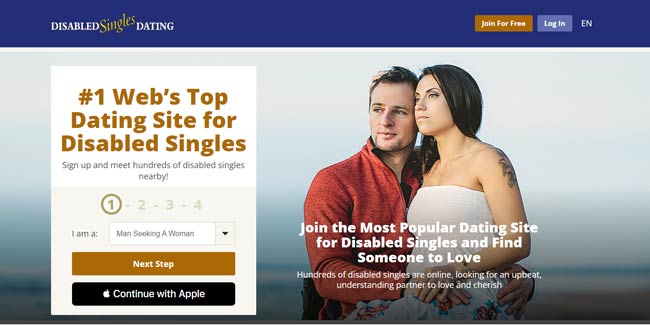 Admit it, it sounds crazy that one single picture can be so significant and so difficult to choose. What's being asked of you is to find the picture that's going to represent who you are, truthfully and that's something that simply cannot be done. You cannot cram everything who you are into this one thing. One thing with predetermined dimensions. Things weren't always like this but we're not here to talk about the old times. We're here to help you choose the perfect profile picture for a disabled dating site. The first two questions you must answer have nothing to do with the picture yet they're incredibly important.
Before we get into that, we need to remind you to steer clear of big dating sites. They're simply not well designed nor is their user base appropriate for disabled dating. This is why we recommend you check out our list of Best Disabled Dating Sites. Almost all of them are free to join including the biggest one Disabled Singles Dating. With that out of the way, it's time to dig into these questions. The first one is what are you trying to do here? Are you looking for someone to chat with? Or perhaps you just want to have a fling? Finally, maybe you're looking for your soulmate and this should be reflected in your profile picture.
If you're wondering how a profile picture of someone who's looking for a soulmate differs from someone who's looking for a fling, we can't tell you. What we can tell you is that it's important for you to keep the answer to this question in your mind as it will help you in the selection process. The second is how you want the world to see you. Maybe you're a cat or a dog person? Maybe you're active in your community or you like watching television. There are no wrong answers and you should be honest while answering this question. Finally, there's the question should your profile show anything related to your disability?

The answer is related to the first two questions. You should upload a picture you feel comfortable with and the rest doesn't matter. However, there are certain tips and tricks you should use. First of all, avoid using flash and your phone's front camera. Take the picture using natural lighting, it doesn't matter whether this is at home or somewhere outside. Secondly, you should not use filters or photoshop. Being honest and transparent is at the core of any successful relationship. Thirdly, avoid pictures with other people, especially members of the opposite sex. Also when you're taking a picture does not shove the phone directly in your face.
You can always ask someone to take your picture or you can place the phone opposite of you and set a timer. Take as many pictures as you want, the more the better. This also means that you should not be afraid to mix things up and upload different pictures regularly. You can make this into a little experiment to see if anything changes. Finally, you should not forget to smile. We know that it's sometimes hard to smile but the other person, the person who will be looking at your profile will know to appreciate this. Keep a positive frame of mind and good things will happen!