Many people believe in love at first sight and even those who do not agree that the first impression matters a lot, especially when it comes to dating. As expected, most folks rely on their vision to determine whether they like someone and whether they want to give them a chance. But what happens when you cannot see? When you do not know how someone looks like and what body movements or facial expressions they are making? Keep reading to find answers to these and many other questions and get a clearer picture of what it is really like to be dating when you are blind.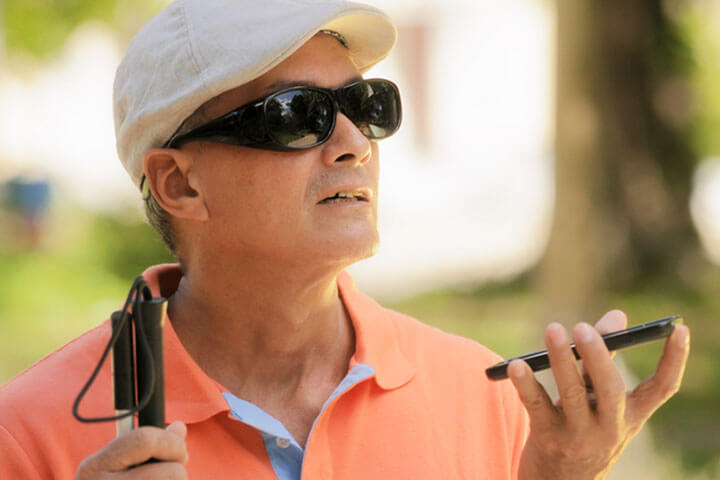 Do First Impressions Still Count?
The first impression is as important for blind people as it is for those who can see. The only difference is that they rely on their other senses. Since they cannot see, blind people use their other senses to determine whether or not they find a person attractive. For instance, body odors are very important. You do not want your date to smells like sweat, cigarettes, and alcohol. Hearing is another important sense because it can also reveal a lot. The way someone breathes, chews, talks or even moves can be a deciding factor for a blind person at the beginning of a relationship. Basically, you do not have to see to know that something does not feel quite right.
What Are Good Date Ideas For Blind People?
Being spontaneous can be very romantic, but there are certain limitations to what you can do when you are blind. For instance, planning a date that involves using public transportation requires advanced preparation. You have to check the schedule and arrange a few other things ahead in order for everything to go smoothly. In other words, you do have to plan for dates when you are blind because any unplanned activities may end up being too stressful for both parties. If you are going on a date with a blind person, do not hesitate to ask them what they would like to do. It is better to be prepared than let something ruin your time together.
Is Going To The Movies And Theatres Still An Option?
Yes, thanks to technological advancements, there are now options for both blind or low-vision people who wish to enjoy a movie or a play. Many movie theatres today are equipped with audio descriptions to help blind people fill in the blanks when there is no sound. However, assuming that your blind companion will enjoy the show is not the same as knowing, so before you make any plans, make sure they are comfortable with the idea.
Can Blind People Use Online Dating Sites?
Like with theaters, there are specially designed dating sites for blind people. When creating a profile for a regular dating website, blind people always question whether or not they should be open about their condition. However, by joining a dating website for disabled people, those with visual impairments do not have to worry about how others will react to their disability or whether they should tell potential dates about it. 
Do Blind People Want To Be Treated Differently?
Even though they have special needs, blind people do not want to be treated differently. While it is perfectly fine to be understanding and considerate, it is not ok to behave like your blind date cannot manage on their own or feel sorry for them. For folks who have not been around blind people, knowing how to behave can be pretty challenging. However, with an open conversation, it is easy to overcome this issue and learn when you should and should not help.
Is It OK To Talk About Their Condition?
Like all people, those who are blind value honesty and want both themselves and their significant other to be comfortable around each other. This means that you should not avoid certain subjects just because your date is blind. The key to any good relationship is open communication, so you should ask them anything you want to know and be perfectly honest yourself. Your blind partner will not be offended by your questions and it is not in their interest to hide anything from you either.
Bottom Line
Dating when you are blind can be challenging at times – but so is dating when you are not blind. Every new romance requires patience and effort to work and living with a disability is just another bump in the road for the couple to overcome. At the end of the day, all it takes for two people to make their relationship work is to care for and respect each other. When that is the case, nothing else really matters.