As a deaf person, maybe you feel that dating someone who is also deaf would be easier than dating a hearing person. It is true that having the same disability makes it easier for people to bond, but it does not guarantee a successful relationship. A hearing and a deaf person can get along just fine if they are willing to make certain adjustments to their current lifestyles. Having said that, you cannot expect that every non-deaf person will be able to accept your disability, which is fine as well. It may seem that dating when you are deaf takes a bit of extra work – and sometimes it does, but it mostly depends on the person you meet. Here is a short overview of what dating for deaf people is really like and how you can make a relationship work with someone who does not share your disability.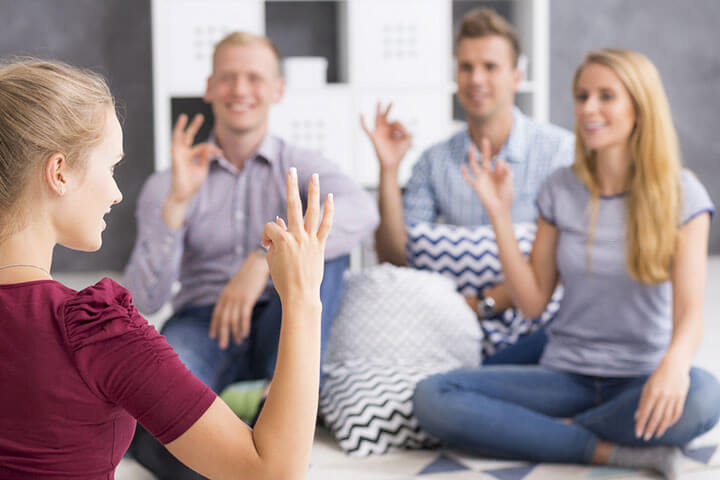 Facilitate Communication With Non-Deaf People
With the help of numerous hearing aids available today, including cochlear implants, deaf people are able to communicate in more ways than one and not only rely on the use of sign language most hearing people are unfamiliar with. On the other hand, when you are deaf and dating someone, your hearing partner will quickly learn that they should talk slower, making it easier for you to read lips, avoid mumbling or use certain hand gestures that could make communication much easier. Texting, Skyping, and emailing are also great ways to communicate when you are not together but want to be in touch.
Give Online Deaf Dating A Shot
Deaf dating websites are an excellent way to find and meet other deaf and non-deaf singles. Whether they have a deaf family member or used to date a person with hearing loss, non-deaf singles who join a deaf dating website do not shy away from a challenge and you can count on them being supportive and understanding all the way. Online deaf dating is perfect if you do not want to question whether to disclose your disability to a potential date and wait for their reaction. On a deaf dating website, you can focus on being yourself and finding someone who will love and appreciate the real you.
Choose An Appropriate Place For A Date
If you want to get to know your love interest better, choosing an appropriate setting for your date is important. Since your date may not be aware of some of the limitations that come with not being able to hear, be free to suggest a place yourself. Choosing a restaurant or a coffee shop with a bit more intimate atmosphere can let you communicate easily as you will not get distracted while you sign or read lips. If you both enjoy the outdoors, going for a hike or a walk around a lake will give you an opportunity to focus on each other and bond over something you both love. Spending a night at home, covered in blankets and watching a movie is a good option for someone you are already comfortable with.
Talk About Sex Openly
Some deaf people struggle with the idea of having sex with a hearing person. They often worry about how they sound to a person who can hear or how they will communicate during intercourse. Again, many hearing people get nervous when having sex with their deaf partners because they think of them as fragile due to their disability. Both sides have valid concerns, which is why it is important to address this issue with your partner openly and right from the start.
Bottom Line
At the end of the day, the dating lives of both deaf and non-deaf people revolve around the same things. Both people with disabilities and those without them need someone to love, connect, and be intimate with. In other words, dating is not really any different for deaf people than dating in general. Other than making some adjustments if you are dating a hearing person, there is nothing stopping you from having a loving and fulfilling relationship and enjoying it just like everyone else.