The subject of sex, no matter how sensitive it may be, is always bound to come up in a relationship, whether we're talking about disabled dating or not. For disabled people, sex can represent a difficulty, a huge hurdle that just takes too much effort to overcome, but it doesn't need to be like that. Sex is an important aspect of any adult's life and the essential part of any relationship. Of course, some people are simply not interested in sex and they don't see it as necessary, but for many others, sexual activity is something that simply makes a relationship complete.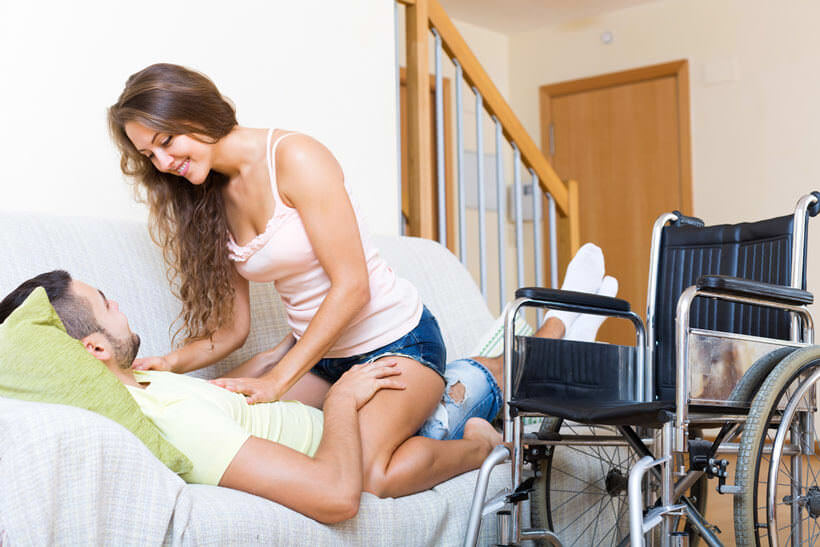 There are all kinds and levels of disability out there, each with its own set of physical and emotional challenges. That's why we can't talk about sexuality and disability in general terms, but what we can talk about is the need to be open about these challenges, especially if the relationship is between two caring, loving, and sexually active partners.
When you are involved in disabled dating, which does come with its own set of challenges, your partner is eventually going to ask you about sex. These questions can be a bit harsh or insensitive – like "Can you even have sex?" – and they can make you feel like this is all they really care about or like they have some sort of perverse curiosity. You should only talk about sex with those people you feel comfortable talking with. The moment you start feeling uneasy or awkward – end it. Don't waste your time and your precious emotional resources.
However, if you have found a great, understanding, and caring person, possibly through online disabled dating sites, you will probably want to engage in some form of sexual activity with them and here are a few tips that might make it easier and more fun.
First of all, you need to understand the extent and the impact of your or your partner's disability and the way it might affect sex. Certain sexual positions are simply physically impossible for people with certain disabilities, but there are others that you could try and that could work perfectly.
For example, people who are in a wheelchair can have sex in that same wheelchair or they can lay in bed, supported by some extra pillows, with the partner on top, facing either to or away from each other. Sex while lying side by side is also a good idea and something that does not require too much physical strength. This position is also ideal for those who wear a catheter or have hip problems.
Those with incontinence issues could consider having sex in a shower or a bathtub, maybe even the swimming pool, somewhere where the involuntary release of bodily fluids won't pose a big problem or might even go unnoticed. Going to the bathroom before sex or limiting the intake of fluids and food before your date might also be a good idea.
Decreased vaginal lubrication is an issue that affects many disabled women. In this case, using lots and lots of lubricants can solve the problem and allow you to enjoy your sexual encounter to the fullest. Both you and your partner should be as imaginative and resourceful in your sex life as possible. Try out different positions and see which one works best for you. Use "props" like household furniture, pillows, rolled-up towels, maybe even some sex toys.
If penetrative sex is not an option for you or if you feel like it might be too much for you just yet, remember that sex is more than just penetration. There is a lot you and your partner can do in terms of sex that does not have to involve penetration. There is kissing, there is oral sex, touching, heavy petting, and there is, of course, masturbation. In fact, disabled people are advised to explore their sexuality as much as they can on their own so that they can get a better understanding of what it is they like or don't like sexually.
Finally, remember that proper communication, lots of understanding, patience, imagination, and love are all essential for sex. In disabled dating, as long as you and your partner are caring and open with each other, there is no obstacle you won't overcome.